Faculty of Human Ecology, Department of Aesthetic Design and Technology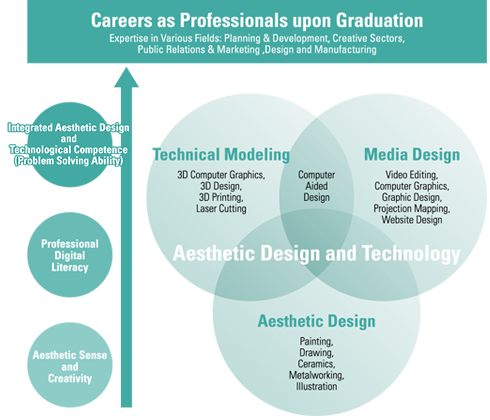 Objectives
The Department of Aesthetic Design and Technology is dedicated to developing an understanding of how quality of life can be improved through the creation of comfortable, social, living environments in which people, information and technology are balanced in harmony. With this objective in mind, we aim to foster students' skills and knowledge relevant to aesthetic design and technology by not only developing their understanding of ICT but also by imbuing them with deep-rooted humanistic values and creative faculties necessary in order to take the consumer's perspective when conceptualizing quality of lifestyle.
Key Features
Fostering the development of creative ability, aesthetic sense, and technical skills
Our curriculum is designed to encourage students to develop their creativity, aesthetic sense, and powers of expression through a range of courses in fine arts, aesthetic design, and technology. In addition, students are given the opportunity to develop their practical skills through active participation in various design projects. Furthermore, starting from the basics, they will learn how to use computer graphics, computer-aided design (CAD), 3D printers, and video-editing software, which is necessary to be able to express their ideas three-dimensionally. The range of skills and knowledge that students can acquire in this department is in high demand in our modern society, ideally positioning them to embark on rewarding careers as professionals upon graduation.