Message from the President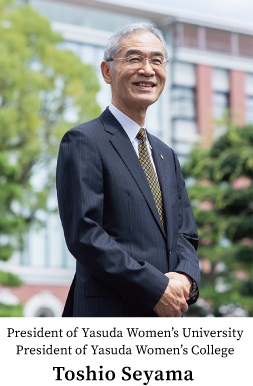 Enjoy your life
Enjoy campus life at Yasuda
With a "Tender yet Firm Spirit."
Yasuda Educational Foundation's motto, "Tender yet Firm Spirit" has been the guiding principle for educating the hearts and minds of students both intellectually and morally since its foundation in 1915. The foundation has devoted itself to nurturing a spirit of determination and perseverance among students in their pursuit of knowledge and skills to meet the demands of modern society while fostering humanistic values such as thoughtfulness and consideration for others.
In 1945, Yasuda Educational Foundation was left in ruins after the atomic bomb exploded over the city of Hiroshima. Sadly, Goichi Yasuda, the foundation's first chairman, was numbered among the many victims from the foundation to succumb to the effects of the bomb. In spite of the horrendous conditions that ensued, the surviving teachers, staff and students showed unbending ambition and clear determination, reviving the educational foundation in the spirit of its guiding principle with the 'toil of their hands' and the 'sweat of their brows' to make it what it is today.
At Yasuda, faculty and staff do their utmost to support students not only in the classroom but also in their extracurricular activities both on and off campus. Yasuda's high percentage of students securing employment and low attrition rate are the result of the enthusiasm of faculty and staff and the eagerness of students. At Yasuda, we aim to foster students who are capable of responding to the demands of today's society. Consequently, in recent years, we have introduced a variety of new courses, such as a course in English communication taught by more than twenty native-speaking English teachers, which is designed to raise all first-year students' awareness of a "globalized" world, and a course in calligraphy, which aims to enhance students' ability to write Japanese beautifully.
At Yasuda Women's University and Yasuda Women's College we will continue to strive, as we always have done and as we always will do, to produce upstanding members of society who conduct themselves with a 'Tender yet Firm Spirit'.