Faculty of Current Business, Department of Public Management
Department Objectives
To train human resources in economic, management and public skills who have the ability to communicate and negotiate in a global workplace, who can also contribute to regional development, "creating new values," by responding to social needs and problems in government, corporations and NPOs.
Key Features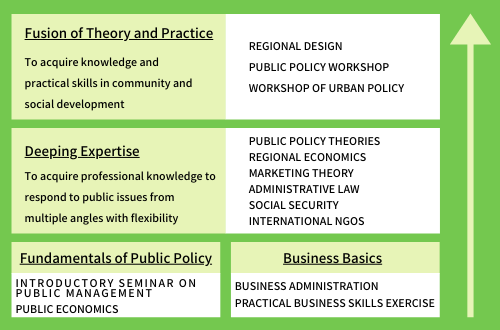 Education System for Broad Public Work
By studying the basic skills of business and public service management, students gain the ability to play active part in society. In addition, they also expand their expertise and ability to view and grasp problems in the community, administration, welfare and the environment and respond accordingly.
Early Practical Experience
From their first year, students will visit government offices, NPOs etc., giving them the necessary knowledge and abilities to work in government, public service management, and political fields, giving them a clear understanding of their university study.
Spontaneous Study through the Active Learning
Repeated group discussions, debates and practical presentations will cultivate abilities for understanding, logical thinking, tackling things positively, and a fertile imagination. Furthermore, the process of research, analysis, solution in group and field will allow students to acquire the abilities for practical application.
Promotion of ICT Education
The university provides each student with a notebook computer, facilities and environment where lessons or self-study utilizing a personal computer and active learning are available. In the Department of Public Management, in addition to the general courses , BASIC INFORMATION PROCESSING I・Ⅱ・Ⅲ・Ⅳ , for all the university students, we have the required courses , DATA SCIENCE Ⅰ・Ⅱ, and elective subjects DATA SCIENCE PRACTICE Ⅰ・Ⅱ, INFORMATION PROCESSING FOR BUSINESS, and INFORMATION TECHNOLOGY, aiming at the promotion of ICT education.