Faculty of Current Business, Department of International Tourism and Business
Welcome
Thank you for your interest in the Department of International Tourism and Business. This is a four-year university department which operate under the Current Business faculty at Yasuda Women's University. A majority of classes are taught in Japanese and a few classes are taught in English. This department started its inaugural year at the opening ceremony, April 4th, 2015.
Our department aims to foster successful global leaders who will be actively working in tourism and business industries in the future. We seek students who are highly career driven and who have an outward looking, global vision. Graduates will possess specialized tourism knowledge such as conducting surveys, acting as a guide, and making informative presentations with confidence. Our department is building ties to businesses and tourism related organizations in Hiroshima, so our students will be working on joint-projects, taking part in volunteer activities, as well as gaining meaningful work experience in Japan and abroad during their four years of study.
Program Structure: Focus on Business, International Communication and Tourism.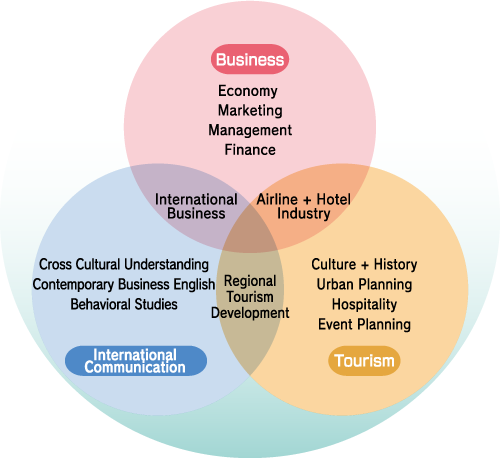 Key Features
Students in this department will study a core of classes on culture, history, tourism, business, English and economics. To ensure that our students develop confidence in English and a global understanding of business cultures, at the start of the 2nd year, all students take part in the HIBISCUS six month study abroad program (February to July) at the University of Hawaii, U.S.A. In the second half of the 2nd year, students will be asked to apply their global study experience to business and tourism situations in Hiroshima and around Japan. In the 3rd year, students will also be able to select more specialized subjects in the fields of tourism, service industries (hotel and airline), urban planning and behavioral studies. The third year also offers an opportunity to do an internship at a company in Hiroshima and other cities in Japan. In the final year, students will join a seminar class and develop original research projects and write dissertation papers.

Global Internship Experience
As an essential element of the HIBISCUS program, and in order to maximize the practical learning experiences gained in the American business and tourism classes, students will participate in work-experience exercises, volunteer activities (like participating in the Honolulu Festival as well as teaching Japanese culture by hosting seminars with American students. There will also be lectures given by company managers in Hawaii, company site visits to observe business-in-action, as well as chances for students to do tourism, business, and cultural-focused independent research projects.

Leadership Development
In line with Yasuda's education philosophy to help students develop a "tender yet firm spirit," we aim to promote confident and effective communication skills, business know-how, as well as multi-cultural understanding. This department trains students to effectively act as bridges who are capable of building positive relationships between Japan and foreign countries' people for future travel and business opportunities.
Graduates will have a place in Japan's Global Future
The need to increase our cross-cultural awareness and understanding of global businesses cannot be underestimated when considering Japan's future. The International Tourism & Business department encourages students to develop a deep understanding and respect for foreign languages and culture, as well as have a deeper knowledge of our own Japanese history, heritage, traditions and business culture. This balanced view will help our graduates communicate and work effectively with people of different backgrounds and various cultures within the tourism industry and global business fields in Japan as well as abroad.