Faculty of Current Business, Department of Current Business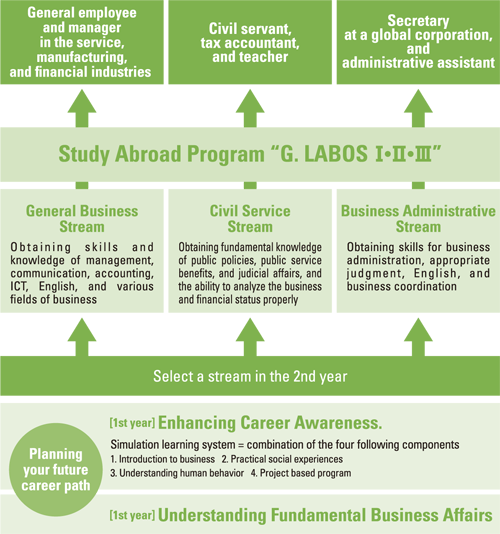 Objectives
The Department of Current Business aims to foster the development of successful business ladies who are capable of working in various business and civil service fields, have a high-level of expertise, possess project development and management skills, and have practical business skills.
Key Features
Strengthening Business Expertise by Selecting a Specific Stream
In students' 1st year, future career paths are identified according to "the simulation learning system" that has both knowledge-based business experiences and practicality. In their 2nd year, students select a stream to further strengthen their specialized skills. Some of our faculty members have first-hand global experiences in various businesses, finance/banking, administration, etc. Thus, we are fully capable of supporting students to achieve their goals effectively. The Civil Service Steam is designed to offer both on-campus classes and off-campus practical sessions.
In addition, corporate projects, several study abroad programs designed to meet students' needs, and internships that aim to strengthen their practical business competitiveness are also available.